Margie Warrell | CEO
&

Founder
Margie Warrell is the CEO of Global Courage. A bestselling author of four books, international keynote speaker and certified master coach, Margie founded Global Courage in 2010 in response to what she witnessed was a growing deficit of courage by leaders in both public, not-for-profit and government organizations.
Currently undertaking a Ph.D. in leadership development and organizational change, Margie draws on her corporate background in Fortune 500 business, psychology and over 15 years experience working with leaders across a diverse range of organizations internationally such as NASA, United Health, National Australia Bank, Microsoft, AT&T, Deloitte, and United Nations Foundation.
An honoree of the Women's Economic Forum, Ambassador for Women in Global Business and mother of four, Margie has a special passion for supporting women to be bolder leaders and more powerful catalysts for change.
More at www.margiewarrell.com

Jacinta McDonell launched the highly successful US franchise Anytime Fitness into the Australian market in 2008, alongside her brother Justin. She was recently inducted into The Fitness Industry Roll of Honour. A strong advocate of using 'business for good' – Jacinta established The Human Kind Project in 2015. A not-for-profit foundation that funds life-changing projects in Africa and India, the Human Kind Project connects projects to businesses to build brand equity whilst creating lasting social change. From spending time on Necker Island with Richard Branson to time in small rural villages in Malawi with The Hunger Project – Jacinta continues to reinvent the way we view business, its purpose and the way we can view purpose in our own lives.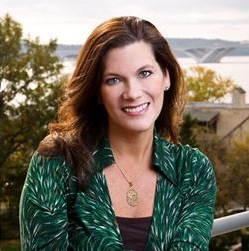 Jane Barwis is the CEO of Brand Resources Group, a Public Relations firm focused on helping clients in the wellness industry communicate better so that they can make a bigger contribution to those they serve. Jane is committed to producing creative and meaningful work; empowering staff to reach their full potential; building and sustaining strong client relationships; and affecting change through professional and philanthropic endeavors. http://www.brgcommunications.com/

Jessika Ferm is CEO of J.Ferm, an international leadership consulting and coaching firm with offices in the US and Europe. Born and raised in Sweden, Jessika and has spent the last 15 years in the US working with training l. A Professional Certified Coach (PCC) with a Masters in Instructional Design from Johnson & Wales University in Providence, RI, Jessika works with executives and organizations from Fortune 100 to solopreneurs located anywhere from Kansas to Dubai. Jessika is also an avid ballroom dancer who is passionate about encouraging people to step outside their comfort zone in all arenas of life and a huge champion fo r the potential of others to step boldly toward bold goals. http://www.jferm.com

Sarah Armstrong is a senior social marketing communications executive with expertise in developing programs for international and national corporations, government agencies and non-profits. She was most recently USAID's Director of Communications in Juba, South Sudan. A committed humanitarian, she is also the founder of Brighter Tomorrow for Africa (BTA), a foundation she started in 2005 to support community based organizations for women and children in Sierra Leone. Sarah also has her own communications consulting firm working with non-profits and government agencies. Prior to becoming a consultant, she was in senior roles with AARP and the American Red Cross National Headquarters. She studied at Universite de Montpellier III France.
Suzi Pomerantz, CEO of Innovative Leadership International is an award-winning executive coach, facilitator, and author with 18 years experience coaching leaders and teams in 150 organizations internationally, including Fortune 100 companies, corporate law departments, and law firms. Suzi specializes in the intersection between leadership and business development and helps executives, teams and organizations find clarity in chaos.
She served on the IJCO Editorial Board and the ICCO Advisory Board, and has authored over 25 publications about coaching, ethics, and business development, and 4 books including her bestseller, Seal the Deal. She served on the Board of the International Executive Coaching Summit, founded he Leading Coaches' Center and co-founded the Library of Professional Coaching.
She received the 2007 Woman of Achievement Award and in 2008 the ICCO Board of Directors established an annual legacy award. In 2009 she was listed as the #1 Most Influential Executive Coach on Twitter. In 2010 she became one of the Founding Coaches of the Relationship Mastery Academy and was recognized for her work coaching the world-changers in the prestigious TED Fellowship Program.
Suzi holds a Bachelor of Arts degree from the University of Virginia and a Master's degree from the University of Virginia's Curry School of Education. More at http://www.suzipomerantz.com

An energetic entrepreneur, recruiter and executive coach, Christine is the Managing Director of Chorus Executive; a talent management company focusing on the recruitment, coaching and personal branding of executives.

Graeme Schache is a psychologist, ontological coach, educator and author who has worked in his own practice since 1991. Graeme is a student supervisor in three of the ontological coaching training programs available today. His book Leadership for Outstanding Results focusses on the ontological approach to leadership.